Ron DeSantis' Florida power play fueling a presidential run: Who's
USA TODAY NETWORK – FLORIDA
{ // query dom only after user click if (!vdContainer) { vdContainer = document.getElementById('videoDetailsContainer'); vdShow = document.getElementById('vdt_show'), vdHide = document.getElementById('vdt_hide'); } vdContainer.hidden = !(vdContainer.hidden); // show/hide elements if (vdContainer.hidden) { vdShow.hidden = false; vdHide.hidden = true; } else { if (!flagCaption) { flagCaption = true; fireCaptionAnalytics() } vdShow.hidden = true; vdHide.hidden = false; } }); function fireCaptionAnalytics () { let analytics = document.getElementById("pageAnalytics"); try { if (analytics) { analytics.fireEvent(`${ga_data.route.basePageType}|${section}|${subsection}|streamline|expandCaption`); } else { if (window.newrelic) window.newrelic.noticeError('page analytics tag not found'); } } catch (e) { if (window.newrelic) window.newrelic.noticeError(e); } } }()); ]]>
Gov. Ron DeSantis on critical race theory in schools during Iowa visit
DeSantis' spoke about how he worked to "eliminate critical race theory" from schools in Florida during an event March 10, 2023, in Davenport, Iowa.
Joseph Cress, Des Moines Register
Florida Gov. Ron DeSantis is on the verge of a presidential announcement that will bring his "Free Florida" philosophy into national focus.
All the signs are in place and he is widely expected to file next week for the Republican nomination and announce shortly thereafter.
The Florida-born governor, a Navy veteran elected three times to the U.S. House of Representatives, won a landslide reelection to governor in 2022 and has carried forward his agenda that steers Florida far to the right.
DeSantis wields power more aggressively than any governor in modern memory, most notably by removing an elected prosecutor and putting a board he appointed in charge of Walt Disney World's property. He targeted key pillars of democracy, restricting protests and voting access while seeking new limits on media companies.
Many of the governor's policies have impacted marginalized groups, including banning a course on African-American history, flying migrants to Martha's Vineyard, curtailing transgender health care and reshaping Florida's education system – from kindergarten to college – to limit how race and LGBTQ issues are discussed. 
It's all become part of his blueprint for what he calls the "Free State of Florida" – and offers a glimpse at the policies he would push through Congress if elected president.
Trump vs DeSantis: Two political figures. Two political speeches. Two diverging brands.
Here, in one place, is a list of how his "freedom agenda" has played out in Florida, often leading to controversy, protest and legal challenges.
WAGING WAR ON WOKE
Signed by DeSantis last year, this law governs how schools and businesses can discuss racial issues. It outlaws the teaching of critical race theory, which argues that the U.S. still struggles with systemic racism.
The bill also prohibits any lessons that could make students feel responsible for historic racial injustices. Business practices and training with similar themes also are prohibited. An ongoing court battle has blocked the state from enforcing some provisions of the law impacting colleges and universities.
Used since the early to mid-20th century by Black Americans to signal an awareness of social and racial injustice, "woke" has been co-opted by the GOP as a sort of umbrella term for progressive ideology. 
The DeSantis administration announced in January that a new Advanced Placement course in African American studies would not be offered in Florida. DeSantis said that aspects of the course pushed a "political agenda," pointing to lessons on Black queer studies and other topics. Florida's rejection of the course outraged many Black leaders, who saw it as another example of DeSantis pushing a racially charged agenda.
The College Board, which oversees AP exams, revised the course to remove any mention of queer studies and other politically sensitive topics, but denied that pressure from conservatives played a role in the revision. A DeSantis spokesman said the state is reviewing the revised course for "compliance with Florida law."
'Hostile to Black Americans': Breaking down 5 laws NAACP named in Florida travel advisory
RESTRICTING LESSONS ON SEXUALITY IN SCHOOL
This law, dubbed by critics the "Don't Say Gay bill," began by prohibiting schools from teaching about sexual orientation or gender identity in younger grades, and limiting instruction in older grades to material that is "age appropriate." This year the ban was extended through the 12th grade.
The bills drew fierce opposition from LGBTQ advocates and their allies. Disney's opposition to the law led to an ongoing feud between DeSantis and the iconic Florida company. The law is being challenged in court.
Accused of running afoul of the policy, a fifth-grade teacher in Hernando County is being investigated after showing her students Disney's 2022 movie "Strange World." It's the first Disney movie with an out, gay character.
Banned in the classroom: Florida bans teaching of gender identity, sexuality through 12th grade
What this means: Florida's 'Parental Rights in Education' bill, dubbed 'Don't Say Gay' by critics, explained
BANNING TRANSITION CARE FOR TRANSGENDER FLORIDIANS
The mainstream medical establishment supports gender-affirming medical care for transgender youth as treatment for gender dysphoria, the distress one sometimes feels when their gender identity doesn't align with their sex assigned at birth.
But the DeSantis administration departed from that guidance last year, when his pick to lead the Florida Department of Health directed a little-known administrative board to look into the medical care. Surgeon General Joseph Ladapo said the care was experimental and dangerous, drawing criticism from hundreds of health experts, including his predecessor, who say Ladapo and other state leaders are misrepresenting the evidence.
The Florida Board of Medicine, whose members are also DeSantis appointees, ultimately voted last year to ban transition-related medical care for youth patients who hadn't already started treatment. Lawmakers followed suit this year, advancing bills that take the restrictions even further.
The outcome has devastated trans children and their families, many of whom have moved or are considering moves out of state. Health experts, along with trans people themselves, say the care can be life-saving for a population that faces higher rates of suicide and suicidal ideation.
'We're just people': As care ban becomes law, trans Floridians face excruciating decisions
Facts on the new Florida laws: Four new Florida laws target transgender, broader LGBTQ community. Here's what they do
State steadily erasing trans options: What can I do if I'm a transgender person living in Florida?
CRACKING DOWN ON DRAG, BATHROOMS AND PRONOUNS
Drag is a centuries-old performance art form that explores gender fluidity and challenges gender norms. Like any performance art, some drag shows have risqué elements, but it's not the standard.
Still, DeSantis has taken issue with drag events that admit children, saying such a practice is part of a trend to "sexualize" children. He's threatened to revoke the liquor licenses of venues that host the events, even if they're advertised as family-friendly. He sent undercover state agents to one such event, a Christmas drag show in Orlando. The agents witnessed no lewd activity.
Republican lawmakers followed suit with their own crackdown, passing a law that restricts children from attending certain adult live performances. The bill isn't as explicit as a recent ban on drag shows passed by lawmakers in Tennessee, but advocates are concerned the vague language will be used to crack down on drag shows and Pride events, some of which have already been canceled.
Jumping on the governor's culture war agenda, the Legislature proposed a host of other bills targeting LGBTQ rights, including legislation that bans transgender Floridians from using the restroom that corresponds with their gender identity and prohibiting preferred pronouns in the classroom if they don't correspond to a person's gender at birth.
GUTTING 'TRENDY' DEI PROGRAMS
Fresh off his double-digit victory in the midterm election, DeSantis announced that he would be reviewing diversity, equity and inclusion programs at Florida's 12 universities and 28 state colleges.
While DeSantis has characterized such programs as "trendy" and "woke," DEI initiatives have existed on college campuses and in workplaces for years. In fact, in the wake of the 2020 police murder of George Floyd, the Board of Governors instructed the state universities it oversees to bolster anti-racism and social justice efforts, including DEI programs.
Lawmakers carried the torch for DeSantis, ultimately sending to his desk a bill that bans state funding for DEI initiatives and calls for university leaders to review any curriculum "based on theories that systemic racism, sexism and privilege are inherent in the institutions of the United States and were created to maintain social, political and economic inequities." 
Both the legislation and DeSantis' rhetoric have angered college students and professors who say the efforts will hurt student enrollment and faculty recruiting efforts. Especially impacted are students and professors of color who say the attacks deny the struggles for civil rights of past generations and their own experiences with racism on college campuses and elsewhere.
Whiplash: Florida universities were told to prioritize diversity plans. Now, DeSantis aims to gut them
TARGETING FIRST AMENDMENT PROTECTIONS FOR JOURNALISTS
In February, DeSantis alarmed First Amendment advocates when he expressed support for changing defamation law to make it easier to sue journalists.
Soon after, a House Republican filed legislation that would have made it easier to sue for defamation, assumed anonymous sources are false in a defamation case and could have increased legal costs for those sued.
It could have also ended up as a challenge to the nearly 60-year-old legal precedent set by the 1964 New York Times Co. v. Sullivan United States Supreme Court decision, which states public officials can not get legal damages from journalists who report false information unless it was done with "actual malice."
Free speech advocates were joined by media companies and officials from both the left and right in opposing the legislation, saying it would lead to the shuttering of news outlets and the suppression of speech.
Republican U.S. Rep. Cory Mills, who represents the southern half of Florida's Volusia County in Congress, said in a letter to state lawmakers that the legislation was "unpatriotic" and "not representative of the free state of Florida."
The legislation died. But lawmakers say they'll bring it back next year.
Failure to launch: DeSantis-desired defamation legislation didn't go the distance. Here's why
REFORMING (OR SURPRESSING) VOTING LAWS
Under DeSantis, Florida has made a multitude of sweeping, controversial election law changes since the 2020 election, when former President Donald Trump and his supporters spread false claims of widespread voter fraud.
Supporters of the changes say they're necessary to protect the efficiency and integrity of the state's election process. But voting rights advocates blast them as voter suppression.
DeSantis, who has danced around the stolen election question for years, has signed into law restrictions on mail-in ballots, ballot boxes and third-party voter registration organizations.
Last year, he and lawmakers created a security office to investigate claims of voter fraud. But there's no evidence that organized voter fraud is a problem in Florida, and opponents have said they fear the new security force could become a weapon used against voter groups opposing DeSantis.
While DeSantis hasn't signed it yet, lawmakers this year passed a bill reducing the amount of time third-party voter registration organizations have to submit voter registration applications, while dramatically increasing the fines for late submissions and other violations. 
That bill also "clarifies" that DeSantis can run for president without resigning, and, controversial to voting rights groups, reduces by two days the time frame voters have to request a vote-by-mail ballot and send one in.
Advocates also accuse it of not doing enough to help formerly-incarcerated Floridians determine their voter eligibility. Confusion over this has led to arrests courtesy of DeSantis' new security office — that advocates and others say have made many people, especially in communities of color, fearful to vote, even if they're eligible.
YANKING BOOKS OFF THE SHELVES OF LIBRARIES
Objectionable books getting pulled from library shelves has become a more common occurrence in recent years, and a recent lawsuit by the nation's largest publisher, authors and a free speech organization says Florida has become the epicenter for the trend.
Last year, DeSantis signed the Curriculum Transparency Act last year, which requires districts to catalog every book on their shelves and put a formal review process in place for complaints.  
While neither Florida Department of Education nor the governor's office have called for any bans on books, parent complaints have some districts preemptively pulling books off of shelves to err on the side of caution – especially since a teacher could be charged with a third-degree felony or face discipline if materials are found harmful to minors.
A new law signed on May 17 requires districts to pull texts within five days of the complaint and keep them off shelves during the review process.
The book banning has generated nationwide attention and controversy, even as DeSantis and his administration insist it's a "hoax."
"If educators are confused about what can and cannot be taught in Florida schools, the blame lies solely on media activists and union clowns who purposefully sow confusion and mislead the public," a Department of Education spokesperson said.
Order in the court: Nation's largest publisher files federal suit to block Florida county's book ban
REDRAWING DISTRICT MAPS TO HELP THE GOP
House Democrats disrupt special session with song and prayers
Democratic lawmakers in Stop The Black Attack shirts disrupt special session on redistricting for an hour. GOP passed the bill while Democrats chanted
James Call, Tallahassee Democrat
Breaking with the usual hands-off approach of Florida governors, DeSantis last year stepped in and took control of congressional redistricting. The result: Republicans gained four congressional seats in Florida – helping the party win narrow control of the U.S. House. 
But it was messy. 
The Republican-controlled Legislature, usually subservient to DeSantis, bucked at first over the governor's approach, which relied on a novel interpretation of federal and state laws protecting minority voting rights which guide once-a-decade redistricting. 
'What happens to us?' With North Florida congressional district gone, Black voters wonder
Inside the records: How Gov. DeSantis blew up Black-held congressional districts in Florida's redistricting fight
DeSantis vetoed a congressional map approved by lawmakers that didn't go as far as he wanted. And called back to the Capitol for a special session, Republican leaders caved and went along with the governor's demand for what he'd termed a "race-neutral" district in North Florida. 
U.S. Rep. Al Lawson, a Black Democrat from Tallahassee first elected to Congress in 2016, lost his seat. More than 370,000 Black voters who lived in Lawson's old district were scattered across four, Republican-held districts from the Tallahassee-area to Jacksonville. 
A Leon County judge, J. Layne Smith, himself a DeSantis-appointee, declared the map unconstitutional for its negative impact on Black voting strength. But an appeals court allowed the new boundaries to stand for the 2022 elections in which Republicans regained House control and a place to challenge President Biden's policies.  
Before Election Day, Republicans held a 16-11 edge in Florida's congressional delegation. The state has another seat now, because of population gains in the last census. After DeSantis' map-drawing, Republicans now hold a 20-8 margin in the delegation. 
A sit-in on the House floor: Amid shouts of 'stop the Black attack', Florida lawmakers pass DeSantis congressional redistricting map
IMPLEMENTING STATE RULE OVER HOME RULE
In a siege that began during his fight against strict COVID-19 policies in blue-leaning cities and counties, DeSantis has steadily eroded authority from local governments. 
He's enacted laws that limit their overall emergency powers, apparently not satisfied with merely swiping away any masking or vaccine requirements local officials put in place. Since the COVID-19 drama quieted down, the governor has emerged with more measures limiting the regulatory role of Florida communities. 
The Legislature has gone along with his demand to prohibit state and local governments from using environmental, social and governance (ESG) guidelines when investing taxpayer funds, extending a policy already in place at the state level but which he wanted enshrined in state law. 
DeSantis also has generally supported so-called preemption measures by the Legislature, which take away local government authority or empower businesses challenging land-use or zoning decisions. 
The governor did veto one such proposal last year, fearing it would spawn too many lawsuits. But he has revived his push for more control over local decision-making by calling for a constitutional amendment making school board races partisan and for a controversial, "Digital Bill of Rights," that would add new restrictions on city and county websites. 
State rule not home rule: In push to the right, Florida cities and counties become focus for DeSantis and lawmakers
EVICTING UNDOCUMENTED IMMIGRANTS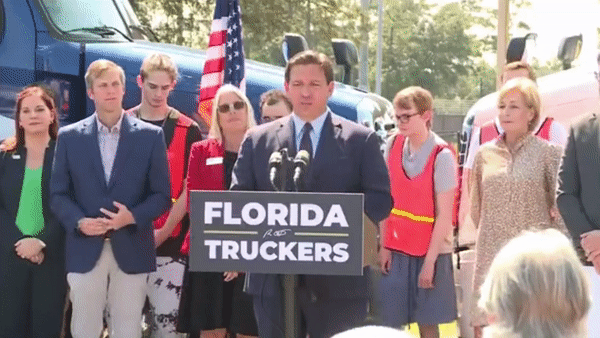 Florida Gov. DeSantis will 'facilitate transport' of migrants
At a news conference in Okaloosa County, Florida, on Sept.15, Gov Ron DeSantis addressed reports of migrants arriving in Massachusetts from Florida.
Governor Ron DeSantis via Storyful, Governor Ron DeSantis via Storyful
After luring about 50 mostly Venezuelan asylum-seekers from Texas last fall and flying them to Martha's Vineyard off the coast of Massachusetts, DeSantis had a headline-grabbing moment that struck at President Biden's immigration policies. 
But the Florida governor was on shaky legal ground. And lawsuits filed by a Democratic legislator and immigrant-advocacy groups forced him to seek help from the Republican-controlled Legislature. 
Lawmakers complied. And in a February special session they hastily approved legal fixes that resulted in the lawsuits being dismissed. 
With the rewrite, DeSantis managed to avoid any legal damage and continue his political chest-thumping over immigration into the regular session, where he championed tough penalties and restrictions aimed at undocumented immigrants in Florida.
The new law strengthens employment requirements and allows state law enforcement officials to conduct random audits of businesses suspected of hiring undocumented workers. Criminal penalties are increased for human smuggling, with third-degree felony charges imposed on anyone caught "knowingly" and "willingly" transporting anyone illegally in the country across state lines into Florida. 
Critics say the law will hurt Florida business, drive away workers and intimidate undocumented immigrants.
While blasting President Biden's border policies, DeSantis is also sending more than 1,100 Florida National Guard soldiers and state law enforcement officers to deploy to the border, amid concerns about a surge of people seeking to cross into the United States as the Title 42 public health emergency expires.
'What are we going to do?' Two migrants share fears for the future in Florida crackdown
SUBJUGATING SOCIAL MEDIA (OR TRYING TO)
DeSantis is hoping to get Florida's 2021 law imposing state regulations on social media companies argued before the U.S. Supreme Court after losing twice in lower federal courts. 
DeSantis enacted the measure back when conservative media was ablaze over former President Donald Trump being deplatformed following the Jan. 6, 2021 insurrection at the U.S. Capitol. DeSantis and Trump are now on a collision course for the GOP presidential nomination. 
Florida Governor Ron DeSantis targets TikTok
Governor DeSantis targets TikTok proposing to bar access to the suspected China-linked platform through any government-issued devices or networks serving them, including schools, colleges and universities.
Greg Lovett, Palm Beach Post
The Florida legislation imposes fines on social media platforms that refuse to air the views of politicians who violate their standards. A Texas law touches on similar territory, and justices are being asked to review the state laws. 
The court hasn't yet agreed to hear the case. But lower courts concluded Florida's law violates the First Amendment rights of the social media companies. 
This session, DeSantis pushed legislation and signed into law a bill that banned TikTok in schools and on government devices amid fears the social media platform is being used by the Chinese government to collect data and spy on the United States.
BATTLING THE MAGIC KINGDOM AND DISNEY
DeSantis escalates Disney feud, says Florida will take more control
On Monday, Apr. 17, 2023, Gov. Ron DeSantis escalated his battle with Disney by announcing plans to revoke local control, assess property and more.
Gov. Ron DeSantis, Tallahassee Democrat
Cash into courts: DeSantis gets millions in taxpayer money to fight lawsuits over hard-right policies
Brawling with Florida's most iconic company is among the most shocking actions DeSantis has taken during his time as governor, and the most attention-grabbing. It started when Disney came out against the Parental Rights in Education Act, dubbed by critics the "Don't Say Gay" bill.
Accusing Disney of supporting "indoctrinating very young schoolchildren in woke gender identity politics," he planned with lawmakers to undo "Disney's special arrangement."
Urged on by DeSantis, the Legislature met in special session to strip Disney's properties in Central Florida of self-governing status. Before the legislation took effect, though, Disney was able to get the upper hand and pushed through an agreement that gave it control over development rights on its properties, stripping a new governing board appointed by DeSantis of power.
The governor has responded angrily, initiating an inspector general investigation of Disney's actions and promising more legislation to rein in and punish the company. After keeping quiet for months, the entertainment giant filed a lawsuit in April saying DeSantis was engaging in a "targeted campaign of government retaliation" against the company. DeSantis' board responded with a lawsuit of its own and the governor signed into law a measure that subjects the Walt Disney World monorail system to state inspection.
Then on May 18, Disney canceled long delayed plans to invest $1 billion and base 2,000 jobs at new offices in the Central Florida community of Lake Nona. The announcement followed Disney chief Bob Iger's suggestion earlier that the Disney conglomerate might rethink plans to invest upwards of $17 billion, creating 13,000 new jobs, in Florida over the next decade.
Mouse trapped: Graphics timeline illustrates the length, bitterness of Disney-DeSantis dispute
UPENDING SCHOOL BOARDS
Local school board races have been low-key contests in Florida over the years, but COVID-19 supercharged school politics and DeSantis seized on the energy around school issues, making these races a focus in 2022. DeSantis took unprecedented steps to help conservative school board candidates, injecting a level of partisan politics never before seen in these races and bolstering the conservative Moms for Liberty movement.
He endorsed 30 candidates and most went on to win after the governor devoted significant time and money to their campaigns, paying for mailers and holding rallies with his preferred candidates. Later, some of the newly minted boards would go on to oust their appointed superintendents.
Changing face: After contentious elections, conservative Florida school boards boot out superintendents
OUSTING AN ELECTED OFFICIAL
Along with punishing Disney, removing Hillsborough County's top prosecutor from office ranks among the biggest power plays of DeSantis' governorship and his most boundary-pushing actions. It's not uncommon for the governor to remove a local official accused of malfeasance, but popularly elected State Attorney Andrew Warren didn't break any laws or get involved in a major scandal.
Instead, the progressive prosecutor clashed with the governor on ideological grounds. The governor said he removed Warren for not properly enforcing the law. Warren called it an undemocratic effort to target a political opponent, and his filed legal action to be restored to office.
'Not a hint of misconduct': DeSantis broke law, judge says, but tosses ousted prosecutor's suit
STAGING A HOSTILE TAKEOVER AT NEW COLLEGE
Liberal arts college caught in America's culture wars
For years, students have come to Florida's New College because they were self-described free thinkers. Now they find themselves caught in the crosshairs of America's culture wars. (March 30) (AP video by Daniel Kozin)
AP
New College of Florida is the smallest school in the state's university system, but it has received the most attention recently after DeSantis appointed six new board members, including prominent conservative activists and intellectuals, in an effort to overhaul the state's liberal arts honors college. The governor says he wants progressive New College to be more like Hillsdale College, a conservative Christian school. That means turning New College upside down.
Such an effort to completely transform a public university in a partisan fashion may be unprecedented nationally, and has drawn intense criticism. The conservative new board members have plowed ahead, though, firing the former president and installing a DeSantis ally in her place while eliminating the school's office of diversity, equity and inclusion and denying five professors early tenure.
The Florida legislature pumped almost $50 million into the new school amid worries about decaying infrastructure and fundraising challenges.
'Go to Berkeley': DeSantis has advice for Florida DEI students
QUELLING PROTESTS
Protesters, singing and arms locked, are arrested in Gov. DeSantis' office
Protesters, singing and arms locked, got arrested in Gov. Ron DeSantis' office on Wednesday, May 3, 2023. They wanted a meeting with the governor.
Douglas Soule, USA TODAY NETWORK – FLORIDA
The wave of protests that swept the nation in 2020 after Black Minneapolis resident George Floyd died at the hands of police eventually led to backlash within the GOP.
DeSantis led the effort, signing a law he pitched as an "anti-riot" measure that was denounced by critics as an effort to stifle protests. The law has been tied up in a court challenge.
Meanwhile, the DeSantis administration pushed through new regulations recently for demonstrations at the Capitol Complex, which has seen large protests recently on everything from guns to abortion. The new rules require groups seeking to demonstrate at the Capitol to be sponsored by a state agency, and their message must align with the agency's mission.
They also give police more discretion in removing protesters and charging them with trespassing.
Twice during the 2023 legislative session, a peaceful protest led to mass arrests, something without precedent in recent history, when demonstrators refused orders to leave. More than a dozen were arrested after a sit-in at the governor's office about a month after 11 abortion rights protesters – including Florida Democratic Party Chair Nikki Fried and Senate Democratic Leader Lauren Book – were arrested after refusing to leave a park area outside City Hall.
'Florida is on fire': About a dozen protesters arrested while singing in DeSantis' office during sit-in
UNMASKING MANDATES
The COVID-19 pandemic turned DeSantis into a major national figure after he repeatedly drew attention for pushing back against public health recommendations.
After a brief lockdown early in the pandemic, DeSantis worked to quickly reopen businesses. He also fought against school closures, mask mandates and vaccine mandates. DeSantis' COVID-19 response is central to his political identity and a cornerstone of his "freedom" agenda.
More than 87,000 people died of COVID-19 in Florida through early April, according to the Centers for Disease Control and Prevention.
Anniversary stump speech: Gov. DeSantis calls COVID a 'woke virus,' praises Florida for avoiding 'Faucian dystopia'
Contributors are USA TODAY Network – Florida politics writers Zac Anderson, John Kennedy, Kathryn Varn and Douglas Soule.
{ link.setAttribute('href', url); }); } })(); function fireNavShareAnalytics (type) { try { let analytics = document.getElementById("pageAnalytics"), section = ga_data.route.sectionName || ga_data.route.ssts.split('/')[0]; if (analytics) { analytics.fireEvent(`${ga_data.route.basePageType}:${section}:nav-share-buttons:${type}`); } else { if (window.newrelic) window.newrelic.noticeError('page analytics tag not found'); } } catch (e) { if (window.newrelic) window.newrelic.noticeError(e); } } ]]>

Source