Fire and Water Unite in Pixar's 'Elemental' Trailer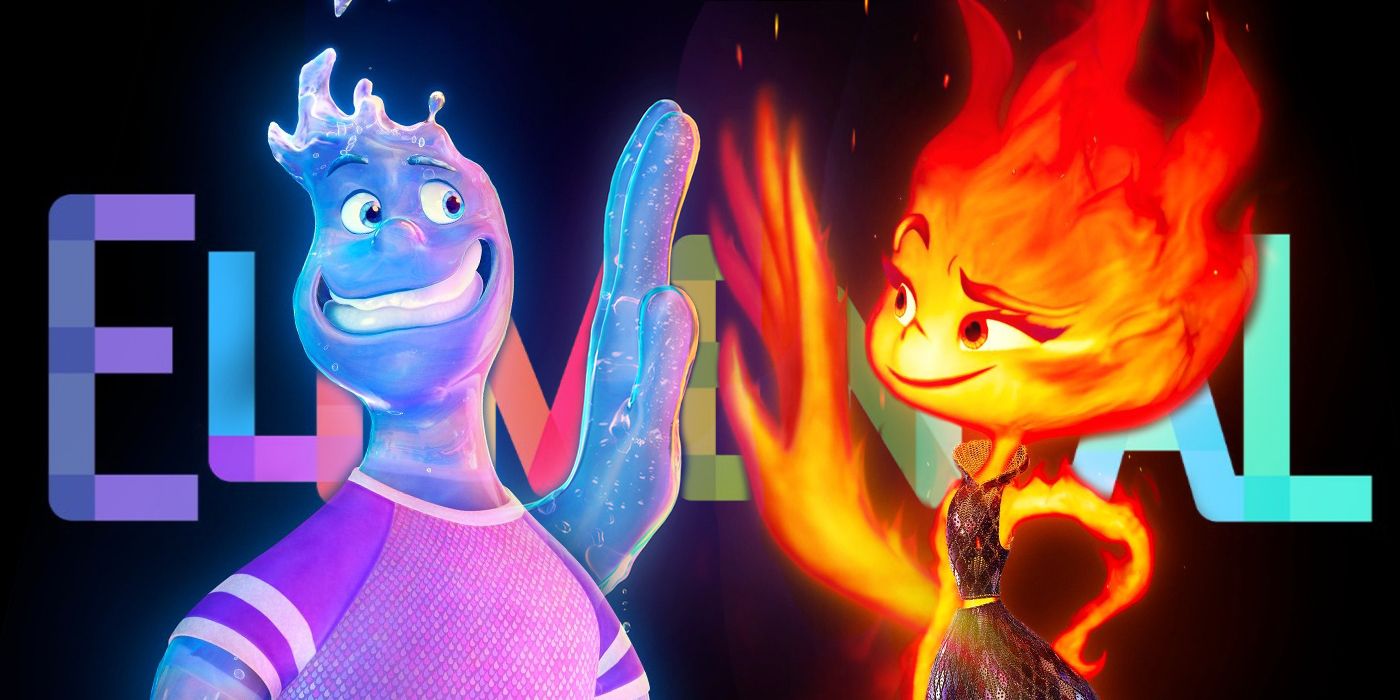 Disney has just released the newest trailer for Elemental, the next film coming from Pixar Animation Studio. The new look at the story of fire and ice from Disney and Pixar is set to premiere in theaters just ahead of Father's Day weekend on June 16, following what else but the animated personifications of two elements, fire and water.
The story of Elemental takes the phrase "opposites attract" to a new level. Taking place in Element City, a bustling metropolis where people made up of Water, Earth, Fire, and Air live together, we follow the budding relationship between Wade Ripple and Ember Lumen, who are Water and Fire, respectively. Speaking to Collider back in November 2022, director Peter Sohn touched on what brings these two characters together and, saying:
COLLIDER VIDEO OF THE DAY
SCROLL TO CONTINUE WITH CONTENT
That's something fun because they're such polar opposites. The Venn diagram of what connects the two of them is universal for all of us, in terms of being vulnerable and seeing each other for the first time. Why they fall in love is that Venn diagram. I don't wanna spoil anything from the movie, so the best I can say is that it's a thin window of shared [commonalities] for them.
Mamoudou Athie (Jurassic World: Dominion, Archive 81) will be making his voice-acting debut in the new film as Wade with Leah Lewis (The Half of It, Nancy Drew) set to voice Ember.
RELATED: 'Elemental': Release Date, Powerful Plot, Telling Trailer, and Everything We Know So Far About the Upcoming Pixar Film
The Team Working on Elemental
Elemental was first announced by Pixar back in May 2022 and is directed by Peter Sohn, who has worked as a part of Pixar's art department on some of the studio's most beloved films like Finding Nemo and The Incredibles, as well as providing the voice for several of the studio's characters, including Remy's brother Emile in Ratatouille. He made his feature film directorial debut back with 2015's The Good Dinosaur. The screenplay of the film is penned by Brenda Hsueh, who has previous credits on series such as How I Met Your Mother and Truth Be Told. Pete Doctor, writer for Inside Out, Up, Soul, and Wall-E, will serve in an executive producer role on the film. Sohn will also serve as a producer on the project alongside Denise Ream (Up, Cars 2, Toy Story 4).
Elemental will debut in theaters on June 16. Check out the brand-new trailer as well as the synopsis for the upcoming Pixar film down below:
"The film journeys alongside an unlikely pair, Ember and Wade, in a city where fire-, water-, land- and air-residents live together. The fiery young woman and the go-with-the-flow guy are about to discover something elemental: how much they actually have in common."