35 Best Disney World Tips and Tricks for 2021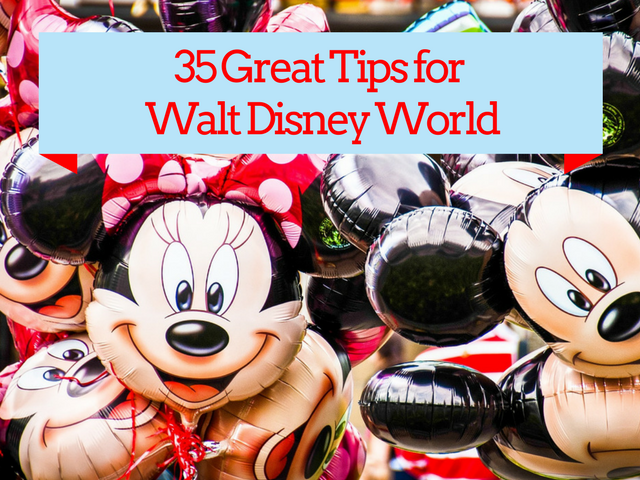 Planning a trip to the most magical place soon? If so, today we will go through the best Walt Disney World tips for having a spectacular vacation!
When compiling this list, I thought…
How can I narrow down my own hacks I use personally for Disney into 35 digestible actions just for you? After much thought, I came up with the top travel hacks!
So here we go.
THIS POST MAY CONTAIN AFFILIATE LINKS. PLEASE READ MY DISCLOSURE FOR MORE INFO. Thank you!
Disney World Tips for First Timers
1 – Pick up a Special Gift
Stop at Guest Services to let them know if you have a special occasion. You may receive a little surprise.
2 – Free Transportation
Take advantage of free transportation to and from the Orlando airport if you're staying on property.
When staying at a Disney Resort hotel, you may enjoy access to Disney's Magical Express.
This is a complimentary round-trip service that whisks you and your luggage between Orlando International Airport and select Disney Resort hotels via a deluxe motorcoach.
ORDER NOW to secure your theme park ticket reservation in the parks! GET MY TICKETS.
3 – See Animals for Free
Visit Animal Kingdom Lodge where you can view animals for free without being a resort guest.
Animal Kingdom Lodge Safari
This is a fun Disney freebie that you can do on a non-park day.
4 – Do a FREE Resort Tour
Resorts such as, Animal Kingdom Lodge, Disney Wilderness Lodge, the Grand Floridian Resort & Spa, and Yacht Club offer tours for any Disney resort guest
You can do some of the tours for free regardless of if you're staying at that particular hotel. Just double check with concierge before you get there.
These tours give historical notes on how the resort was created in addition to some really cool facts secrets along the way.
Please note: Some tours require a reservation.
5 – Take the Resort Monorail
Use the resort monorail instead of the Magic Kingdom one in the Transportation Ticket Center. The line is usually shorter and it will also take you to the Magic Kingdom.
Photo: Disney Co.
You will have a few resort stops on the way instead of a straight shot.
6 – Book Your Reservations ASAP
Remember that the window for Disney reservations open 180 days in advance if you plan on staying on Disney property.
7 – DVC Equals V.I.P.
Disney Vacation Club members have privileges to a secret lounge in the Imagination Pavilion at Epcot.
8 – Download My Disney Experience App
Here you can make FastPass+ reservation to attractions on this app. You can also check out wait times, show times, and park maps.
9 – Don't Give Up on Booking Your Reservation
If you can't book that FastPass+ or RSVP to a special event, then check the my Disney experience app on the site around 7 A.M. the day of and see if you have any luck.
The Disney World FastPass+ (also sometimes referred to as simply "FastPass") is a travel must have if you're looking to enjoy the most of Disney by spending less time waiting in line. 
Disney FastPasses are great in that they give you peace of mind that your "must-do" attractions are locked before you even start your vacation!
I can attest to this because I've done it before during the Epcot Food and Wine Festival.
For example, I wanted to go to a beverage seminar that was booked up the whole month, then I tried the day of and I was able to get in.
10 – Use the Single Rider Line if Your Family is Okay with Splitting Up
Single rider lines give you an opportunity to reduce the amount of time waiting in line for an attraction in exchange for not necessarily being able to experience the ride with your own party.
Test Track Ride at Epcot
What is a Single Rider Line?
A single-rider line is used to fill in empty seats on ride vehicles in order to maximize all occupancy if possible. It's a great way to get on the Disney attractions faster, just keep in mind that you will most likely be split from your party.
Mostly likely you will be enjoying a solo Disney World trip, so this little issue won't matter to you.
11 – Dine on a Budget
If you have a small appetite and you're on a small budget, then order from the kid's menu. It's usually significantly cheaper and it fills you up.
Mr. Kamal's Fries Animal Kingdom
You will also want to plan out your meals ahead of time to help you make a good food budget.
Walt Disney World has a full list of dining locations on their website that's well organized with prices listed. This will help with your planning tremendously.
12 – Free Photo Opportunities
FREE Photo with Chase card.
Chase Card Members who have a Disney logo or Disney inspired debit or credit card can have special free photo opportunities throughout parks like Epcot.
13 – Take Advantage of Free Package Delivery
Stay at a Walt Disney World resort hotel and receive free package delivery of your park purchases to your room.
Hipster Power Tip: Book an Orlando vacation home near Walt Disney World with an experienced company to save money on lodging.
14 – Treat Yourself to a Dole Whip
Walt Disney World magic can be found all over the resort, but one must have treat that encompasses all that enchantment is the pineapple Dole While.
There was a time when obtaining this legendary snack was hard to come by, but since the demand has skyrocketed over the past few years.
You can now find it in multiple locations if you know where to look.
Read: Where to Find Dole Whip at Walt Disney World
15 – Use an Official Disney Travel Agent
Book your vacation through an authorized Disney vacation planner to make sure you're saving the most on your Disney trip.
Disney vacation planners usually have the latest and newest deals that Disney offers.
16 – Book an Early Character Breakfast at Magic Kingdom.
This will allow you to enter the park before everyone else and give you quite the head start into conquering each ride and attraction.
17 – Experience Disney Springs
Disney Springs is a wonderful shopping and dining attraction that you must experience for yourself. 
Disney Springs
Not to mention that the entry to Disney Springs is absolutely FREE!
18 – Take Advantage of the FastPass+ Grace Period
It's my favorite secret regarding FastPass+. You can arrive 5 minutes early or 15 minutes late to your fast pass.
19 – Grabbed the Perfect Fireworks Spot
When watching Epcot fireworks show, pick a spot where the wind will not blow smoke directly on you. This may vary based on the wind direction of the evening.
20 – Arrive at the Parks Early for Rope Drop
At Disney World, the rope is slowly pulled aside a few minutes before people are allowed to pass. You can get many of the popular rides done before 11 A.M.
Cinderella Castle
This leaves you time to watch some shows or circle back around to your favorite attractions.
This tip is especially important on the hot summer days in Florida. You can ride all the best attractions, have lunch and watch a show all by 12 P.M.
Once the sun gets crazy, you can go back to your hotel room to relax and then come back in the evening times.
21 – Underwater Sounds
Go underwater at the pool in the Art of Animation to hear a special sound.
22 – Ride Kilimanjaro Safari at Sunset
This is when the animals are the most active. This is something that you don't see during the daytime experience.
23 – Don't Forget to take Breaks
Take breaks from the heat and do more indoor attractions. Not only will you need to beat the Florida theme park heat, you'll want to rest your feet from all the walking you will be doing.
24 – Stay Cool
Buy frosty towels, pack lots of water, buy a portable fan to stay cool in the parks.
Animal Kingdom Kali River Rapids
25 – Stay Hydrated
Remember that a cup of water is free at most quick service locations.
26 – See a FREE Disney Parade
Watch the Electric Water Pageant on the Seven Seas Lagoon at night.
It's free!
Read over 51+ things you can do at Walt Disney World for FREE here!
Recommended Electric Water Pageant Viewing Locations:
Polynesian Village Resort– Beginning at 9:00 P.M.
Disney's Grand Floridian Resort & Spa(including Narcoossee's) – Beginning at 9:15 PM
Disney's Wilderness Lodge– Beginning at 9:30 P.M.
Fort Wilderness Resort & Campground– Beginning at 9:45 P.M.
Disney's Contemporary Resort– Beginning at 10:10 P.M.; in instances when the Happily Ever After fireworks show takes place at 10:00 P.M., the Electrical Water Pageant will begin shortly following its conclusion
Right outside the entrance of Magic Kingdom park – Beginning at 10:35 P.M., during Extended Theme Park Hours only
Hipster Power Tip: The times for the Magic Kingdom show do vary based on the season. Always check the official Walt Disney World website for up-to-date times.
27 – Search for Hidden Mickey's
Hidden Mickey's can be found all over the Walt Disney World Resort area. Even in the most uncommon places, so keep your eyes open.
28 – Chat with an Imagineer
Have lunch with an Imagineer and ask all the questions you've been wanting to know about your favorite attraction.
This is an absolute Disney bucket list item.
29 – Explore the World of Avatar
Pandora – The World of Avatar will engulf you in magic and wonder as soon as you walk through the entryway.
The majesty, the beauty, and the harmonious sounds of nature will transport you into another place.
Valley of Mo'ara
You'll want tovisit Pandora in the early morning or late in the evening to take advantage of the lower crowd level.
30 – Get Tickets Online
Don't forget to purchase cheap theme park tickets online from authorize discount ticket providers such as the Undercover Tourist.
You will definitely save money if you buy tickets in advance instead of at the gates.
You can listen to podcast episode 14 on how to find the best theme park deals.
31 – Spend a Day at a Water Park.
It's the perfect way for you to cool off from the unforgiving sun and enjoy the Sunshine State.
Typhoon Lagoon at Walt Disney World
If you're familiar with the Disney water parks, then you know they're open for most of the year. However, the party kicks into high gear during the summer months.
Read: The Best Water Park Tips here!
32 – Experience an Epcot Festival
Go to an Epcot Festival such as the Food and Wine Festival, Flower and Garden Festival, or the new Festival of the Arts!
33 – Have a World Drinking Tour
Elderflower Sangria at Epcot
Drink your way around the world at Epcot…
…but remember the Do's and Don'ts of Drinking at Epcot.
34 – Visit Walt Disney World on the Perfect Days
Remember that the best time to visit Disney is early November or mid to late January.
While you're planning that perfect day to go, don't forget to download the Disney Crowd Calendar to view the crowd level of each day!
35 – Experience Disney's Kiss Goodnight
Disney's Kiss Goodnight is where you stay at the Magic Kingdom 30-minutes after closing to see some very special things.
The Kiss Goodnight is a little over 2-minutes long, and it is the Magic Kingdom's way of saying "goodbye" to guests at the end of a long day…
After the park closes, Cinderella Castle starts "twinkling" as the music from When You Wish Upon a Star slowly builds.
Final Thoughts
These are just a few Walt Disney World tips you should know when planning your vacation to the parks.
The little hacks are also things I love to remember when it comes to doing Disney the right way.
Please let me know what Walt Disney World tips and tricks you think are the best in the comments section below.
Pin for Later!
If you enjoyed this article, then you'll love these:
Until next time, Happy Park Hopping Hipsters!
NikkyJ
Planning a trip soon? If so, read the Disney Vacation Planning Guide for your next dream trip!
(Original Article Date: November 21, 2018/Updated December 30, 2019)
Share this article!